If you're considering garage door replacement near Wyckoff, you might be interested in exploring the different types of garage doors. You will ultimately want to choose a new garage door that matches the style of your home, fits within your budget, and is appropriate for your lifestyle. Here is a look at some of the most common types available today.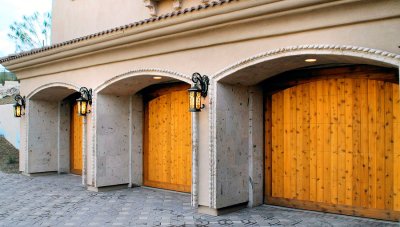 Decorative Garage Doors
If your home has a unique aesthetic, or if your garage isn't just being used as a place to house your car, you might want to consider decorative garage doors. These doors are available in a variety of styles and materials, so it's easy to find the perfect one for your home's exterior décor. Decorative types are not just functional, but they are also beautiful. You can choose a modern or contemporary style crafted from metal, wood and glass, or opt for a Victorian or craftsman-style.
Overhead Garage Doors
Overhead is the most common type of residential garage door that you will see. There are a variety of different mechanisms that are used for residential garage door openers. A belt drive is the most common, and uses a belt to push or pull a trolley that moves your door up or down. A belt-driven garage door opener uses a belt to move the door, rather than a chain. A screw drive garage door opener is operated by rotating a steel rod that moves the trolley and opens or closes the garage door.
Carriage House Garage Doors
Carriage houses are designed to look like the doors on old-fashioned carriage houses or barns. You can choose customized, decorative hardware to make your garage match your home's aesthetic. These sophisticated residential garage doors are perfect for homes where the garage is attached to the home and visible from the street.