Gallery Garage Door Collection in Wycoff

Overview
Vintage style steel garage doors with updated appeal.
Available in insulated 2 or 3-layer sandwich steel construction or non-insulated 2″ steel frame construction
Two insulation options: polystyrene or Intellicore® providing R-values up to 18.4 (Calculated door section R-value is in accordance with DASMA TDS-163)
Swing-out appearance, overhead operation
Long or short grooved panel designs with optional windows and decorative hardware
Fivefactory finish paint colors or Ultra-grain® stained wood look (shown here)
Ultra-Grain is a unique paint finish, available in Mediumand Dark Oak and Walnut wood-grains – available on 3-layer sandwich doors only.
WindCode rated available
Construction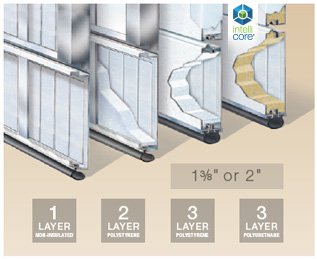 Hot-dipped galvanized steel skin with a baked-on primer and top coat helps ensure maintenance-free durability and long-lasting beauty.
Polystyrene or Intellicore® insulation with R-values ranging from 6.5 to 18.4.
Long or short vertical grooved steel panels available in 1-layer, 2-layer and 3-layer construction.
Windows are standard with double strength clear glass and optional snap-in grilles. Other options include insulated glass (available on 2″ three-layer models), obscure with snap-in grilles and acrylic wrought iron designs.
Section joints and bottom weatherseal in a corrosion-resistant aluminum retainer help seal out the elements.
Design Options
Constructed of durable steel embossed with a natural woodgrain texture, this vintage style line is available in long or short grooved panel designs with various window combinations and hardware for a one-of-a-kind look.
Click here to use the Clopay QuickDraw Garage Door Drawing Tool
Media